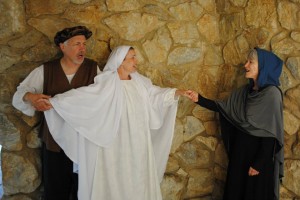 Please come along to see the UK award-winning play, CELL TALK: 1410 by Calvary parishioner, Dana Bagshaw. The story of this play is drawn from the writings of two women from 15th century England: the highly regarded mystic Julian of Norwich and her younger contemporary Margery Kempe — a more controversial figure, both then and now.
Julian, who lives in a cell attached to a church in Norwich, welcomes a troubled Margery for several consultations. Meanwhile Margery persuades her husband John to take a vow of celibacy, so that she can become a pilgrim.
Matt Matthews, known from his work with Santa Clara Players, provides his excellent direction. Ali Eppy is perfect as Julian of Norwich, and Shannon Gilligan Hemphilll's portrayal of Margery is powerful. Rick Kuhn adds his delightful characterization of John Kempe, Margery's long-suffering husband.
"One woman rooted . . . and one wandering . . . beautiful and inspired" says Peter Oswald, who selected Cell Talk as winner of a UK playwriting competition held while he was resident playwright at the Globe Theatre.
Outdoor performances with live music from the period will be held on Sunday afternoon, 4:00 to 5:30 pm. Click here for directions.
Repeat performances:
Sept. 29: First Congregational, 900 High Street, Santa Cruz
October 6: St. Jude's , 20920 McClellan Road, Cupertino
October 13: St. Francis, 1205 Pine Ave, Willow Glen
Suggested donations: $10 seniors/students, $15 general, at the door. Proceeds to benefit Calvary Church Choral Scholars Fund and their Homeless Ministry.