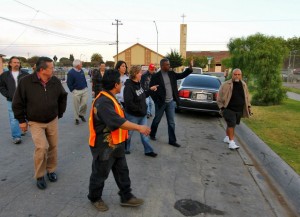 The Salinas Night Walks is a project that was adopted from community action called 'Night Walks' originally in Boston, MA, and then later replicated in Sacramento, CA. In its infancy, the project was conceived, created and performed by the faith community in Boston. The principal features of the project involve a consistent, real and physical presence in communities that are suffering from poverty, economic stress, substance abuse and the subsequent violence that results from these factors.
In Salinas, the 'Night Walks' project was adopted by Salinas City officials, and promoted by Chief Kelly McMillin. In addition, Chief Kelly witnessed the project at work in Sacramento and introduced it to the greater Salinas faith community, which continues to support the project, currently. Presently, Deacon Doug Winston of Christ the King Roman Catholic Church-Salinas, heads up the Salinas Night Walks project.
So, what is 'Salinas Night Walks' about? The walks involve groups of 10-20 individuals that gather at appointed locations in Salinas, and we walk primarily in the eastside. The present locations include Hebbron Heights, Del Monte Avenue and the Acosta Plaza Complex. All locations were selected by the city and approved by Chief Kelly. These areas were chosen by the Chief because of high need for community presence and frequent incidences of violence. The groups walk during set hours and the object is to be a consistent presence in these neighborhoods. We do not evangelize, or promote any specific causes. We walk the streets, and promote peace and safety by being present with the residents in our community. When approached by people, we are authorized to offer a small brochure in English and Spanish that outlines services by the City of Salinas provided by calling 2-1-1.
Now, it is my pleasure to invite clergy and lay leadership of the Episcopal Church in the Diocese of El Camino Real to join the Salinas Night Walks. I have been walking for a couple of months and our team leader, Mr. Dick Renard of 'Marketplace Meets Mission' is encouraging local service groups and churches to organize teams for this unique ministry. We hope and pray that someday soon, we will be able to provide teams that cover every night of the week! Currently, our team goes out at 6 p.m. on Wednesday nights. You may contact me directly for more information at stgeorge12@msn.com or call 831-449-6709.
Thank you, and may God bless you!