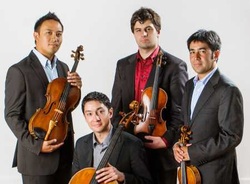 The Baumer Quartet, an affiliate of the San Francisco Friends of Chamber Music, will be performing a benefit concert at Church of the Good Shepherd on Friday, June 14, 2013 at 7:00 p.m.
Baumer is dedicated to educating and inspiring young musicians. As an outreach to youth in Monterey County, they launched the MCMW, a one-week, tuition-free program in June 2012. It was such a success that they are pleased to again offer the program this June, and it will be tuition-free!
Participants are selected after submitting an audition with two contrasting pieces or movements. Upon acceptance into the program, the students are given a music assignment that they are to prepare prior to the start of the Workshop. During their week of coaching they will practice and rehearse daily to develop a higher level of critical listening to achieve a higher performance standard. They will develop communication and interaction skills required for a string quartet. Finally, students will experience the joy of sharing music, working together as a team, and will discover a greater self confidence in performance, a heightened awareness of public performance and the audition process. The Workshop will conclude with performances by the students and the Baumer Quartet. The program is supported by grants, donations, and numerous in-kind donations. The proceeds of the June 14 performance will benefit the Workshop.
Please support the Baumer Quartet's efforts and save the date—-June 14! Admission is $20 and youth 21 and under are free.