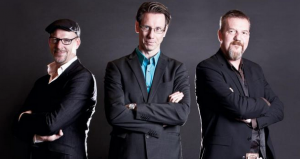 Olov Johansson – nyckelharpa, Mikael Marin – viola, &
Roger Tallroth – guitar.
"The sound may be traditional, but the attitude is completely modern, mixing up the ideas of folk, the virtuosity of prog, and the humor of the insane asylum into a cuisineart of acoustic bliss. Visualize whirled music."
$15 in advance or $20 at the door.
Click here for tickets.