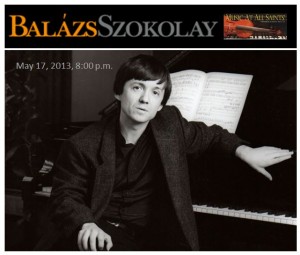 Music at All Saints' presents: Balázs Szokolay on May 17, 2013. Balázs Szokolay was born into a family of musicians in Budapest in 1961. His father is a Kossuth prizewinner, composer Sándor Szokolay. Balázs started to play the piano at the age of five, taught by Erna Czövek. Later, at the Ferenc Liszt Academy of Music, his professors included Klára Máthé, Pál Kadosa, Zoltán Kocsis, György Kurtág, and Ferenc Rados. Following his graduation in 1983, he won scholarships for two more years of studies in Munich and Moscow . He was instructed by Mikhail S. Voskresensky, Amadeus Webersinke, Ludwig Hoffmann and Yvonne Lefebure.
To buy tickets, click here.
Video of Balázs Szokolay playing F. Liszt Venezia E Napoli – Pt2 Canzone Tarentella
Listen to more audio samples on his website.