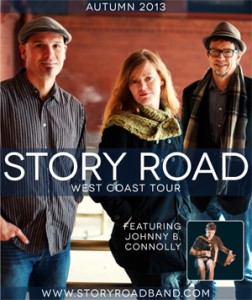 Following up on the success of their Spring 2013 tour, acclaimed traditional Celtic musicians Colleen Raney, Johnny B. Connolly, Stuart Mason and John Weed team up for another West Coast tour, again performing as the new Celtic quartet Story Road. From the Pacific Northwest down to the Central Coast of California, Story Road brings a lively brew of Irish, Scottish, American and original music that ranges from delicate to hard-driving, with a few surprises in the mix. On Saturday, September 14 at 7:00 pm, Story Road will be performing at St. Mary's!
The cost is $18 advance or $20 at the door (children under 13, $5 advance or $10
at the door). To purchase tickets in advance, visit: www.brownpapertickets.com.