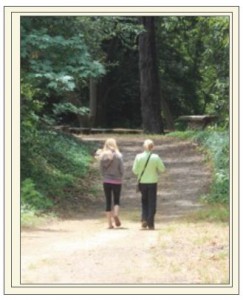 You are invited to join us for a day amid the towering redwoods of the Big Sur Coast, to listen to the soothing sounds of the Big Sur River as it gently splashes over stones. We will explore how we can become a trusting community of God's women. We will build a labyrinth, a sacred space from the stones of the earth and from Christ's love in our hearts. You will meet new friends and share stories.
Each of us will bring our own lunch. Beverages and snacks will be provided.
Click here to download the brochure.
When: Saturday, August 24, 2013
Time: 10:00 a.m. to 5:00 p.m.
Where: Santa Lucia Mission
and Campground
Cost: $15.00
What to bring: lunch, river shoes, a folding chair, comfortable summer clothes, and a sweater or jacket. Camping in Paul's Meadow and the Mission Cottage garden is free for Friday and Saturday night.