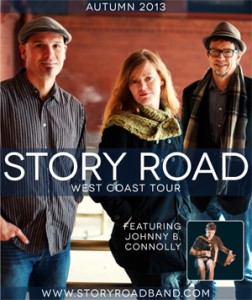 Many of you have already enjoyed the lively fiddle of John Weed and the guitar artistry of Stuart Mason as they have appeared on several occasions in the Bryson Hesperia area with Molly's Revenge and Little Black Train. This time, Story Road finds Weed and Mason teaming with the lovely and exciting voice of Colleen Raney and accordion skills of Johnny B. Connolly.
For directions, click here.
For more information about Story Road, click here.